Collaborating with researchers outside of your area of expertise is a critical aspect of research in the modern era. When studying pain, this is even more valuable, due to the fact that pain impacts people across multiple domains and across many different mechanisms. For example, learning about how people view the concept of pain may help us understand how patients view the treatment options for their chronic pain conditions. Understanding how specific psychological processes interact with pain processing can aid us in unpacking the mechanisms underlying how pain is modulated. Alternatively, we can use our knowledge of the current scientific pain literature and apply our theories to the practical realms of the clinic which could help improve treatment and provide clinicians with forms of assessment that are yet to be utilised. In my view, collaborations are a critical aspect of pain research, and below I've detailed some information about some of my collaborators and the projects we are currently engaged in.
DR Maria Maiaru
Lecturer

Department of Pharmacy
University of Reading
Dr Mairu's main research interests focusses on pain mechanisms and the generation of new tools and drugs that could ameliorate persistent pain states. Specifically, her research focuses on uncovering new signalling pathways involved in chemotherapy-induced peripheral neuropathy (CIPN) and provide new targets for its treatment. As well as understanding the long-term consequence of silencing pain-pathways using novel Botulinum constructs. Her approach involves the use of new Botulinum constructs that target specific pain signalling neurons within the spinal cord. This research has the potential to lead to new treatments for neuropathic pain, but potentially it could also improve other forms of chronic pain, such as inflammatory pain or chemotherapy-induced pain.
By applying her work on biological and pharmacological mechanisms, and the CINN Pain Lab's work on magnetic resonance spectroscopy, we have since been awarded funding to investigate the influence of systemic inflammation on long-COVID induced chronic pain. This pilot work will use phlebotomy and spectroscopy techniques to quantify inflammation in the periphery, as well as in the brain, to understand why some long-COVID sufferers appear to be vulnerable to developing chronic pain alongside. This will facilitate the development of translational bench->bedside models for assessing and managing chronic pain in long COVID patients, as well as improving our understanding of the underlying mechanisms, for the purpose of optimising treatment.
DR Katherine Finlay
Associate Professor

School of Psychology
University of Reading
Katherine is an Associate Professor in Psychology and Chartered Health Psychologist with a special interest in developing psychological and/or behaviour change interventions to manage chronic health conditions. Katherine's research work focuses on clinical populations living with long-term chronic health conditions, including chronic pain, spinal cord injury and recurrent urinary tract infection. Katherine is regularly employed in Health Psychology consultancy, including delivering training sessions on behaviour change and Motivational Interviewing in the public and private sectors.
Using Katherine's skill and expertise as a health psychologist, we have been working together for 3 years, attempting to better understand the detrimental influence of adverse childhood events on chronic pain assessment and treatment. We have also been working hard to improve conditions on grossly expanded waiting lists for pain management after lockdown, and to try to use interventional development techniques to create "activated prehabilitation lists". Within this framework, patients will be given the tools and information they need to prepare themselves for the treatment ahead, and reduce the feelings of isolation or "being forgotten" which so often go hand-in-hand with periods of prolonged waiting for treatment.
DR William (Bill) Kuteesa
Consultant Gynaecologist

Royal Berkshire Hospital

Mr William Kuteesa is a Consultant Gynaecologist at The Royal Berkshire Hospital in Reading, where he has practiced at as a Consultant since 2008. He gained extensive general gynaecology experience in the years since graduating from Guy's and St Thomas' Hospitals. He is an incredibly active clinician at the RBH, where he teaches urogynaecological surgery including laparoscopic procedures. He also recently led on Outpatient Hysteroscopy at the RBH. He has undergone extensive training in gynaecological ultrasound and in the care of patients presenting with gynaecological emergencies.
The CINN Pain lab has been working closely with Bill since 2015, collaborating together to understand the presence of severe pain within outpatient hysteroscopy patient populations. While this procedure is now known to be a painful procedure, it is still frequently described as a low-to-no pain procedure, with thousands of women reporting unanticipated traumatic painful experiences as a result of OPH. While this work has proved valuable and has been publicised widely via the media, and discussed within parliament, we are currently working on advancing our research to investigate psychobehavioural predictors of pain, and a better understanding of the individual differences in gynaecological pain.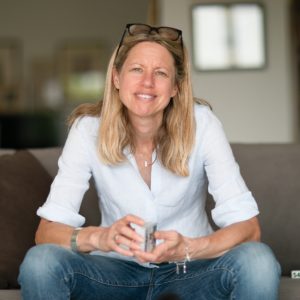 DR Emma Borg
Professor

Department of philosophy
University of Reading
Dr Borg's main research interests lie in philosophy of language and philosophy of mind (where she is interested in issues such as the nature of pain, mindreading, mirror neurons and animal cognition). Together, the departments of philosophy and psychology have created a body of experimental philosophy work, examining individual differences on the perspective of pain; namely, whether they view pain as being a construct of the body, the mind or a combination of both. We were recently awarded funding to examine whether this varies in chronic pain patients, whether it can predict response to psychological interventions and if we can use CBT to adjust the perspective towards a mind-centric view to enhance adaptability to psychological treatment.
Prof Mark Little
Interventional Radiologist

Royal Berkshire Hospital
Professor Little is Consultant Diagnostic and Interventional Radiologist & Director of Radiology Research at Royal Berkshire NHS Foundation Trust. We are working with Mark to run a presurgical pain assessment on the first European research study investigating the role of Geniculate Artery Embolisation (GAE) in the treatment of knee osteoarthritis (OA). Our pain assessment battery will aim to identify those who at a risk of poor surgical outcomes, as well as identifying neural mechanisms underlying predisposition to postsurgical chronic pain.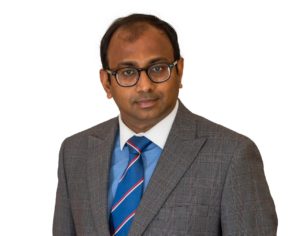 Dr Deepak Ravindran
Consultant

Royal Berkshire Hospital
Doctor Ravindran is consultant in anaesthesia and pain medicine, as well as the clinical lead of the Pain Management Unit in the Royal Berkshire Hospital. Deepak has been integral in terms of calibrating clinical processes and pathways to better improve our treatment of chronic pain. A holistic clinician, who appreciates the multi-faceted nature of the condition, has been a key component of our collaborative links between the University and Hospital. Currently, Deepak is sponsoring our project with Emma Borg, and enabling us to translate our research from the lab to the clinic, to attempt to further improve stratification and treatment of chronic pain patients undergoing psychological interventions.